C2 - Energy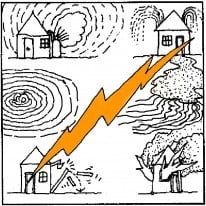 Relates to safety and the following Healthy Living Practices:
Energy is essential to many of the Healthy Living Practices and is required for most community activities.
Energy such as electricity, gas or solid fuel (wood or coal) may be expensive whereas renewable energy sources such as solar, wind, hydro or wood may provide a cheaper alternative if available and if there is the ability to invest in the capital equipment required to convert these energy sources into a useable form. Many communities have little choice or control over the supply and cost of various energy sources.
The energy needs of a community need to be considered as a whole in order to deliver affordable services to residents. This requires consideration of the energy options for different items of health hardware and the most efficient fuel source available. It may be more cost-effective to install solar hot water systems and energy efficient appliances in housing, or a reticulated gas system to the whole community, particularly if an electrical power generation system is subsidised by the state or territory government and the capital cost of the installation is equivalent to the subsidy.
The relative advantage of selecting electrical devices with reduced power consumption can be assessed by consulting: https://www.energyrating.gov.au/, which includes an energy rating for the following appliances:
Electric stoves, ovens
Refrigerators
Freezers
Ceiling fans
Electric hot water services
Boosted solar hot water services
Heat pump hot water services
Refrigerated air conditioners
Reverse cycle air conditioners (in heating and cooling modes)
Evaporative air conditioners
Electric fan heaters
Radiators
Washing machines
Fluorescent lamps
Incandescent lamps
LED lamps
TV sets
Water pumps
Appliances such as toasters
This section includes a brief discussion about the systems that generate electricity for communities and about gas supply systems. For information about solar hot water heating, see B1.2 Hot water. Other types of energy systems are beyond the scope of this guide.