A3 - Fire Safety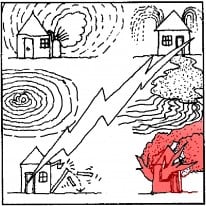 Injury from fire
This section considers three important principles to reduce fire injuries - prevention, detection and escape in the event of fire.
The causes of fire may be greatly increased in houses where data show gas installations are poor with only 48 per cent OK. Electrical faults may also lead to fires and data show that only 42 per cent of houses had all power points testing OK. The combined impact of vermin and electrical cables can increase fire risk. Data show that mice and rats were present in almost 15 per cent of houses, this is a significant reduction from 50% in 2006. Mice and rats cause damage to electrical cables and to appliances such as hot water systems, refrigerators and stoves.
Detection of fire is limited by the fact that only 57% of houses have any smoke detectors fitted and, of those houses with any detector fitted, only 36% had at least one detector functioning.
Escape from house fires will be difficult if, as data show, security screens are often fixed to windows resulting in 46 per cent of houses with the only emergency escape route possible through external doors.