THE KEY TO SUCCESS – Local participation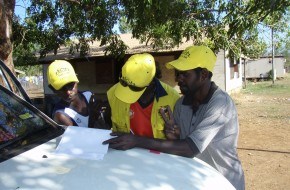 Housing for Health is also a methodology guided by a set of Healthy Living priorities to ensure the most urgent health impacts are addressed in items within a house. The success and continuity of Housing for Health projects, both in Australia and overseas, have largely been due to the involvement of local communities.
In Australia, more than 75% of Housing for Health staff are local Indigenous people. Working with skilled managers and team leaders the local, paid staff  undertake a range of responsibilities including:
Participating in on the tools training sessions
Helping plan the daily schedule of houses to survey and fix
Testing and fixing houses at Survey Fix 1 and 2
Assisting licensed trades with the major fix work
Entering data using the on-site office
Talking with householders, in their own local language, about the work being done and the key safety and health principles behind the work.
In Nepal, local team members plan, build and maintain the Village Sanitation Program under the guidance of local Non-Government Organisation Community Health and Development Society, Nepal. The teams on the ground have been essential to the program expanding to neighbouring villages.