Health Hardware – why we all need it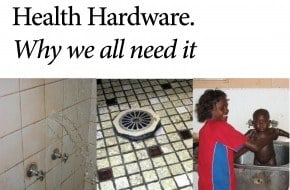 "…It's not just about housing, it's about housing and infrastructure as the hardware that delivers the capacity for people to live healthy lives"
~Brian Doolan, CEO The Fred Hollows Foundation
The term "Health Hardware" was first used in Australia by Fred Hollows (who was first introduced to the approach by Archie Cochrane) to explain the physical equipment needed to ensure housing and environments supported good health.
Housing for Health the guide AND the program has always placed the design, installation and maintenance of health hardware at its core. While seemingly "obvious" or "mundane" as ensuring there are hand washing facilities near to each toilet, items like this exist in the guide because they are the very things that are neglected in remote Indigenous housing in Australia from the moment the houses are built. Without these seemingly 'simple' and 'logical' items, the impact on health will be negative.
Well-meaning professionals wanting to ensure new and existing houses are up to scratch when it comes to health hardware are often surprised by the basic expectations of the guide . During housing assessments we are often confronting simple things like ensuring kitchens are waterproof. Designers and engineers especially like to believe that they would never detail anything so negligently… and fair enough! The training and experience undertaken by these professionals to design and build houses is not to be baulked at, so surely after all that they don't have to be told to make sure there is enough space around a stove top for big pots to rest.

The detail can be seen as mundane and boring, it's not glamorous and it is incredibly simple. However if we assume that houses will be built with these things "in mind" rather than in contractual agreements, then the likelihood of houses being able to support good health is compromised and often leads to poor performance, failed housing and sick kids.
Interestingly, there is not nearly enough research out there that reports on the causal links between the specific parts of the living environment and its impact on our health. In the HH office we often wonder why. We acknowledge that it is time sapping, difficult and expensive to find those links, case in point the NSW Health Department's 10 year study on the impact of the Housing for Health program documented a 40% decrease in hospital admission for environment related illnesses.
But data and research aside… isn't this link the most logical issue of all? I have never met anyone who doesn't understand the notion that their house and their environment can have an impact on their body. If your house is hotter inside than it is outside in summer, how can you expect an infant or toddler to sleep well, let alone overcome a common cold or skin infection quickly? If you have nowhere to properly store, prepare and cook food, what is your alternative? Cheap, pre-packaged, processed food that is bad for your blood sugar, heart, concentration and waistline… this needs no data, research, study or conclusion to convince me, just the fact that I'm a person who wants the best for her life and lives out most of it in built environments.
In less remote locations i.e. a major town or city we most likely have access to resources and jobs to pay for them. To stay cool in summer, we can buy a reverse cycle air conditioner from the shop or employ an architect to design a renovation with passive airflow. We can wash our children and ourselves in hot water, in bathtubs or under rain shower heads. We can have luxury kitchens fitted out with imported German products that rarely fail. This access to resources is part of the problem. Things can easily be replaced or re-designed, and therefore remote Indigenous housing problems are not "our problems" they never touch us, the metropolitans, the middle class.
The Guide and the notion of health hardware are not only for the poor or the disadvantaged.The Guide was developed out of the need for the very best in design, quality control and maintenance for us all. It is for anyone who lives in a house. It is for anyone who wants their house to be more than a show of their success and more than just a shelter, and to make sure it never limits your health or the health of your children.
Post by Heleana Genaus
Heleana is an architect, graphic designer and communications expert who co-ordinated the design and production of Housing for Health – the guide.  Heleana has been part of the Healthabitat team since 2008.