2x2x2 Water Challenge for Ethiopia – Ending Trachoma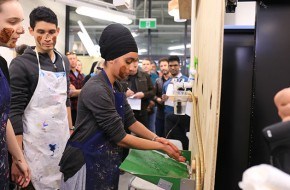 HH continues to engage students in interdisciplinary workshops where they are faced with solving tricky, real-world problems. These challenges ultimately help the communities we work with gain from the student's innovation, energy and ideas as well as the oversight and contributions of a broad range of professionals that act as mentors, tutors and judges.
We have just completed the two of the 2x2x2 Challenges in Sydney and Brisbane. The Sydney event was co-ordinated by Nepal Sanitation Studio veteran Jasper Ludewig. Five teams of medical, architecture and engineering students from Sydney University and Notre Dame University came together over a weekend to assemble and test their solutions to achieving efficient face and hand washing with less than 2 litres of water per person.
In Brisbane, the event was co-ordinated by Dr. Eleni Kalantidou Program Convenor of Design Futures at Griffith University who brought together design and engineering students along with medical students from Towards International Medical Equality (TIME) at the University of Queensland (UQ).
Over both challenges the student groups had to assemble, test and demonstrate to a panel of experienced judges how their designs worked, the aim to use as little water as possible and remove the most dirt from faces and hands. Any grey water collected was also to be then used to clean floor (simulating the toilet floor the final system would be installed in).
Background
Healthabitat and Fred Hollows Foundation have partnered to combat ending trachoma in Ethiopia adopting the S.A.F.E. principles (Surgery, Antibiotics, Face washing and Environment). HH has been asked to help with contributing to the face washing and environmental indications that lead to trachoma. Water is scarce for many in this country, requiring many hours of walking to and from pumps to collect a day's worth of water. Many families have limited amounts of water for cooking and drinking let alone washing hands and faces or flushing toilets.
To investigate ways to approach hand and face washing within the toilet design we've developed, HH as collaborated with students from Universities in Sydney and Brisbane to set up challenges held in each city to put their ideas to the test.
These were called the 2x2x2 water challenge (2 eyes, 2 hands, 2 litres) where students had to devise a viable solution for getting hands and eyes washed with as little water as possible for under AUD25. These were great events that have taught us many things. Most importantly, we've seen students across disciplines (medicine, design, engineering) collaborated seamlessly over an important issue.
Results of the Challenges:
Click here for the report illustrating the outcomes from the Sydney Challenge in July
Click here for the report illustrating the outcomes from the Brisbane Challenge in August
---